Ready to score big with consumers? With our new data product, Sports Fans and Followers, you can ensure that you never strike out! 
Sports play a major role in Canadian culture – almost every Canadian adult (98.2%) watches or attends one or more professional sports events and over 75% follow two or more men's sports events! With this extreme viewership, sports are one of the best channels to reach consumers. 
About Sports Fans and Followers
This product provides you with a holistic view of traditional sports and eSports consumers across Canada. To create this product, we modelled the survey responses from Vividata's survey on Sports and eSports to the ~800,000 residential postal codes in Canada.
What's Included?
Sports Fans and Followers provides you with insights into the consumer's:
Sports viewership and attendance

Fandoms for teams/leagues

Favourite players/athletes

Motivation to follow specific sports

Social media engagement

Streaming live events

Streaming by device

Sources for sports information

Advertising awareness

Sponsorship awareness

Spending on events and merchandise

Attitudes and opinions (e.g. favourite and least favourite sports teams)

Betting patterns

Participation and following of fantasy sports
How is the Sports Fans and Followers product used?
Media, CPG, retail, sports leagues, and entertainment companies use this data product to accurately target fans of sports and esports! This product informs the best sponsorship and advertising channels, and allows you to tailor your marketing campaigns to effectively interact with fans. 
Say you are a retail store that specializes in sports merchandise and you are interested in advertising to basketball fans. However, before you can jump into marketing you need to learn more about these consumers to communicate with them effectively in order to maximize your ROI. Our Sports Fans and Followers data product has the perfect insights for you! 
For example, did you know that basketball fans are much more culturally diverse than golf, hockey and tennis fans? This means it is the ideal channel to reach ethnic consumers. In addition, basketball fans refer to the internet before making a purchase more often than the average. These insights allow you to effectively target ethnic basketball fans. If this is your target market, you may choose to place internet ads to effectively reach this group.
You may also choose to visualize the insights in this data product to understand where to reach your targeted audience. For example, below is a heat map of basketball fans (those that attend 50% or of a team's live games) in the GTA.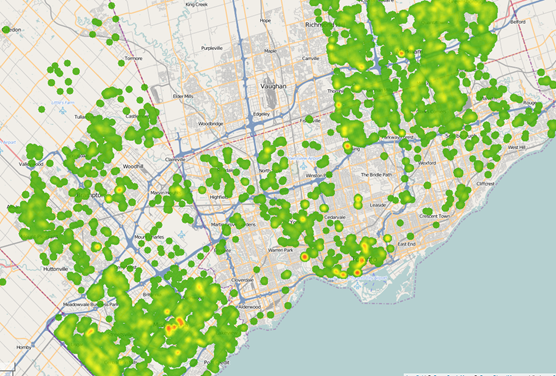 You may use this to decide where to place physical advertisements to reach basketball fans. Governments may also use this data to plan around live events and future sports infrastructure. 
This is just one of many insights you may leverage in Sports Fans and Followers product to help you effectively reach your target market. 
 Want to learn more to enhance your communication and connection with sports fans? Contact us today!